La eficacia y validez de lo obvio: lecciones aprendidas desde la evaluación de procesos educativos bilingües
Luis Enrique López

Programa de Formación para la Educación Intercultural Bilingüe en los Países Andinos (PROEIB Andes)
Palabras clave:
educación bilingüe, pueblos indígenas, América Latina
Resumen
Si bien hasta hace no mucho tiempo en América Latina la importancia de utilizar la lengua materna de los educandos vernáculohablantes como vehículo de educación era aceptada, a lo más, de manera todavía axiomática, apelando sobre todo a consideraciones de índole teórica, ética, moral y política, afortunadamente ahora se cuenta con resultados de investigación empírica que refuerzan estos principios, principalmente cuando se trata de niños pertenecientes a grupos sociales y étnicos subordinados y minorizados, como es el caso de un gran número de alumnos latinoamericanos de habla vernácula.
Citas
Bibliografía

ACADEMY FOR EDUCATIONAL DEVELOPMENT, Rural Primary Education Improvement Project. Final Evaluation. Informe preparado para la Agencia para el Desarrollo Internacional de los Estados Unidos, 1993.

AMADIO, Massimo, La repetición escolar en la enseñanza primaria. Aspectos relevantes. Ponencia presentada al Taller Internacional Repetition a Global Perspective. Ginebra, febrero, BIE/UNICEF, 1995.

ARIAS, Pedro, Niños aimaras aprenden matemática. Lima-Puno: GTZ/Universidad Nacional del Altiplano, 1990.

CUMMINS, James, «The influence of bilingualism on cognitive growth: A synthesis of research findings and explanatory hypotheses», en Working Papers on Bilingualism, 8. 1-43, 1976.

- - - «Linguistic interdependence and the educational development of bilingual children», en: Review of Educational Research, No. 49, 222-260, 1979.

- - - «The construct of language proficiency in bilingual education», en Georgetown University Round Table on Languages and Linguistics, Washington, D.C.: GUP: 81-103, 1980.

- - - Bilingualism and Minority Language Children. Language and Literacy Series. Toronto: The Ontario Institute for Studies in Education, 1981.

- - - «Empowering minority students: a framework for intervention», en Harvard Educational Review, Vol. 56/1, 18-34, 1986.

D´EMILIO, Lucía, «El pueblo guaraní y su educación». Versión revisada de una comunicación presentada al Coloquio Internacional Bilingüismo y educación. Universidad Pedagógica Nacional de México. Abril, 1993.

- - - «Pobreza de la educación y propuestas indígenas: Lecciones aprendidas». Ponencia presentada al Seminario Internacional Educación y Pobreza. Toluca 26-28 de octubre. Colegio Mexiquense, 1994.

DULAY, Heidi y BURT, Marina K., Why Bilingual Education? A Summary of Research Findings, Segunda Edición, San Francisco: Bloomsbury West, 1978.

DUTCHER, Nadine, The Use of First and Second Languages in Primary Education: Selected Case Studies. World Bank Staff Working Paper No. 504. January 1982, 1982.

GOTTRET, Gustavo; Granado Teresa del y otros, Proyecto de Educación Intercultural Bilingüe. Evaluación longitudinal. La Paz: UNICEF. Mimeo, 1995.

HAKUTA, Kenji, The Mirror of Language. The debate on bilingualism. New York: Basic Books, 1986.

HAKUTA, K. y Gould, S. J. «Synthesis of research on bilingual education». En Educational Leadership, Vol. 44, 30-53, 1987.

HEATH, Shirley Brice, La política del lenguaje en México. México: Instituto Nacional Indigenista, 1973.

HORNBERGER, Nancy, «Bilingual education success, but policy failure». En: Language and Society 16, 205-226, 1987.

- - - Bilingual Education and Language Maintenance: A Southern Peruvian Quechua Case. Dordrecht/ Providence: Foris Publications. Existe una versión castellana publicada en 1989 en el Perú, bajo el título de Haku yachaywasiman. La educación bilingüe y el futuro del quechua en Puno. Lima-Puno:PEEB-P, 1988.

JOHN-STEINER, Vera, «The road to competence in an alien land: a Vygotskyan perspective on bilingualism». En Culture, Communication and Cognition. Vygotskyan Perspectives. Cambridge: Cambridge University Press. 348-371, 1985.

JUNG, Ingrid; SERRANO Javier; URBAN Christianne, Aprendiendo a mirar: una investigación de lingüística aplicada y educación. Lima-Puno: PEB-P-UNA-P, 1988.

KELLY, Joseph, Bilingual Education Project in Guatemala: preliminary results on the test of the principal hypothesis during 1983. Guatemala: Instituto de Nutrición de Centroamérica y Panamá, 1984.

LEVIN, Henry M. y LOCKHEED, Marlaine E. (eds.), Efffective Schools in Developing Countries. The Standford Series on Education and Public Policy. London: The Falmer Press, 1993.

LOCKHEED, Marlaine E., «The condition of primary education in developing countries». En H. Levin y M. Lockheed (eds.). 20-40, 1993.

LOCKHEED, Marlaine E. y LEVIN, Henry M., «Creating effective schools». En H. Levin y M. Lockheed (eds.). 1-20, 1993.

LÓPEZ, Luis Enrique, «La escuela en Puno y el problema de la lengua». En L.E. López (ed.) Pesquisas en lingüística andina. Lima-Puno:CONCYTEC/UNA-P/GTZ, 265-332, 1988.

- - - «El bilingüismo de los unos y de los otros: Diglosia y conflicto lingüístico en el Perú». En: E: Ballón y R. Cerrón-Palomino, Diglosia linguoliteraria y educación en el Perú. Lima: CONCYTEC-GTZ, 91-128, 1990.

- - - «La educación bilingüe en Puno: hacia un ajuste de cuentas». En M. Zúñiga, I. Pozzi-Escot y L.E. López (eds.) Educación bilingüe intercultural: reflexiones y desafíos. Lima: FOMCIENCIAS. 173-217, 1991.

- - - «To guaranize: a verb actively conjugated by the Bolivian Guaranis». En: N. Hornberger (ed.) Indigenous Literacies in the Americas. Language Planning from the Bottom Up. Contributions to the Sociology of Language 75. Editor General: Joshua Fishman. Berlín/New York: Mouton de Gruyter. 321-353, 1997.

LÓPEZ, Luis Enrique y JUNG, Ingrid «El castellano del maestro y el castellano del libro». En: L.E. López, I. Pozzi-Escot y M. Zúñiga (eds.), Temas de lingüística aplicada. Primer Congreso Nacional de Investigaciones Lingüístico-Filológicas. Lima: CONCYTEC-GTZ, 197-217, 1989a .

- - - «Hoy se termina este chiquitito cuentito: A study on the relationship between speaking and writing in second language learning». Informe presentado al seminario internacional sobre Dimensions of Bilingual Development realizado en la Universidad de Hamburgo, 1989b.

MCLAUGHLIN, Barry, Second Language Acquisition in Childhood. (Vols. 1-2). Hillsdale, New Jersey: Lawrence Earlbaum Associates, 1984.

MCLAUGHLIN, Barry, Myths and misconceptions about second language learning: What every teacher needs to unlearn. Washington, D.C.: National Center for Researchs on Cultural Diversity and Second Language Learning, 1992.

MENDOZA, Leonor, Transferencia de habilidades de lectura y escritura de L2 a L1 en niños quechuahablantes. Tesina de Segunda Especialización. Curso de Postgrado en Lingüística Andina y Educación. Ms, 1988.

MODIANO, Nancy, Indian Education in the Chiapas Highlands, New York: Holt, Rinehart and Winston, Inc. La primera edición de la versión castellana del mismo salió en México, D.F. en 1974 bajo el título de La educación indígena en los Altos de Chiapas. México, D.F.: Instituto Nacional Indigenista, 1973.

- - - «Public bilingual education in Mexico». En: Christina Bratt Paulston (ed.). Handbook of Bilingualism and Bilingual Education. New York: Greenwood Press, 1988.

MONTOYA, Víctor, «La educación bilingüe en proyectos integrados». En: Educación, etnias y descolonización en América Latina. Vol. I. México, D.F.: UNESCO/III. 57-82, 1983.

MUÑOZ, Héctor. Apreciación del Proyecto de Educación Intercultural Bilingüe. Volumen I. Informe Técnico. Mimeo. La Paz: UNICEF, 1993.

- - - «El proyecto de educación intercultural bilingüe en las regiones aimara, quechua y guaraní de Bolivia». En: Cuadernos del Sur, Nos. 6-7. 69-91, Oaxaca, 1994.

PATRINOS, Harry A. y PSACHAROPOULOS, George «Socioeconomic and Ethnic Determinants of Grade Repetition in Bolivia and Guatemala». Working Paper WPS 1028. Washington, D.C.: The World Bank, 1992.

- - - «The cost of being indigenous in Bolivia: an empirical analysis of educational attainments and outcomes». En: Bulletin of Latin American Research, Vol. 12, Nº 3. 293-309, 1993.

PLAZA, Pedro, «Evaluación del 2º grado 1992. Resultados provisionales». La Paz: UNICEF-MEC. Mimeo, 1990.

PROCESO, Tataendi. Campaña de Alfabetización en Guaraní. Santa Cruz de la Sierra, Bolivia: UNICEF/PROCESO/TEKO GUARANI/APG, 1994.

PSACHAROPOULOS, George y PATRINOS, Harry A. Indigenous People and Poverty in Latin America. An empirical analysis. World Bank Regional and Sectoral Studies. Washington, D.C.: The World Bank, 1994a.

- - - «Reducing Poverty in Latin America Among Indingenous People»: An Enhanced Role for Education. Mimeo. Washington, D.C.: The World Bank, 1994b.

ROCKWELL, Elsie; MERCADO, Ruth; MUÑOZ, Héctor, et al. «Educación bilingüe y realidad escolar: un estudio en escuelas primarias andinas». (Informe de la evaluación parcial del Proyecto Experimental de Educación Bilingüe en la enseñanza primaria de la región de Puno, Perú, llevada a cabo en 1988.) Lima-Puno: PEEB-P. 227 págs. + anexos, 1989.

ROMAINE, Suzanne, Bilingualism. London: Basil Blackwell, 1989.

- - - «The role of bilingual education in Indigenous language movements». Merton College, University of Oxford. Ms, 1993.

SCHMELKES, Sylvia, La desigualdad en la calidad de la educación primaria. Cuadernillos de Educación. La Cola del Gato. No. 1. Oaxaca: Instituto Estatal de Educación Pública de Oaxaca, 1994.

SECRETARÍA EJECUTIVA DEL CONVENIO «ANDRÉS BELLLO», Encuentro de innovadores e investigadores. «Procesos pedagógicos y educativos alrededor de los proyectos educativos institucionales». Información General, 1995.

SKUTNABB-KANGAS, Tove, Bilingualism or not. The education of minorities. London: Bilingual Matters, 1983.

STEWART, Stephen, The Guatemala Bilingual Education Project: An evaluation. Informe elaborado para la Agency for International Development. 37 págs. + anex, 1983.

TOKOUMAA, Peter y SKUTNABB-KANGAS, Tove. The intensive teaching of the mother tongue to migrant children at pre-school age. Research Report No. 26, Department of Sociology and Social Psychology, University of Tampere, 1977.

TROIKE, Rudolph, Research Evidence on the Efectiveness of Bilingual Education. Arlington, Virginia: National Clearinghouse for Bilingual Education, 1977.

- - - Guatemala Bilingual Project 1980-1983: an analytical and comparative assessment. Virginia: Interamerican Research Ass., 1983.

UNESCO, The Use of Vernacular Languages in Education. Monographs on Fundamental Education VIII. París: UNESCO, 1953.

UNESCO/OREALC, Situación educativa de América Latina y el Caribe, 1980-1989. Santiago de Chile: UNESCO, 1990.

ZÚÑIGA, Madeleine, «La Universidad de San Marcos y la educación bilingüe en Ayacucho en la década del 80». En: M. Zúñiga, I. Pozzi-Escot y L.E. López (eds.) Educación bilingüe intercultural: reflexiones y desafíos. Lima: FOMCIENCIAS. 151.171, 1991.
Cómo citar
López, L. E. (1998). La eficacia y validez de lo obvio: lecciones aprendidas desde la evaluación de procesos educativos bilingües. Revista Iberoamericana De Educación, 17, 51-89. https://doi.org/10.35362/rie1701103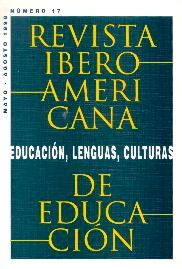 Sección
Artículos del monográfico